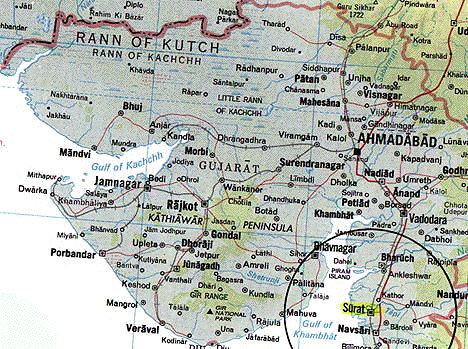 Gujarat government has put Kalpasar project on fast track and has intended to start the works in year 2012 with target to complete the project before year 2020, however there are pollution related obstructions that are now delaying the final report of the project.
According to sources, Kalpasar dam will have waters of six rivers of Gujarat, however it is found that the water coming out from this river is polluted. The six rivers include Dhadhar, Mahi, Sabarmati and Narmada river.
According to insiders, Dr. M.S.Patel, Secretary of Kalpasar Project has sent a letter to state's industry department Principal Secretary Shri Maheshwar Sahu on 8 December stating that the six rivers that meet Arabian sea in Kalpsar project's proposed area are creating so much pollution that the issue is creating problem when the department is in process to prepare the final report. The letter states that the quality of dam water would be very important in Kalpsar project, because it would be used for drinking, irrigation and industrial purposes. The industries located on the banks of the rivers are dumping pollution to the rivers which ultimately mixes in the sea. GIDC does not take enough steps to prevent this and thus the body is not helpful.
It should be mentioned here that Nagpur based NIRI's scientist Dr. S.R.Vate is leading the team of experts involved in preparation of report on Kalpsar project based on all kinds of related data.
The government has to pay Rs. 29 crore for study report of this project to Institute of Ocean Technology. Earlier the estimate of entire Kalpasar project was 1 lakh crore Rs but now, as the government has dropped tidal power project, the over all estimated project cost has come down to about Rs. 35000 crore. The works of this project will be handed over to national construction company.
Due to Kalpsar, about 200 km distance will be shortened between Bhavnagar and Surat. Kalpsar will be capable of storing 10,000 million square meter water which is double compare to the storage capacity of Sardar Sarovar Narmada dam. The project is realized, will provide irrigation facility to 10.54 lakh hector land of six districts that are located around the bay of Khambhat region. There are plans to generate wind and solar energy. The project will also provide constant water supply to more than 60 reservoirs located in nearby region.
Kalpasar fact file
• Dam's length: About 30 km
• Full reservoir level: 3 metres
• Live storage: 10,500 mcm
• Reservoir area: Approx 2000 sq km
• Water envisaged for irrigation: 6558 mcm
• Irrigation command:10.54 lakh hectares
• Drinking water supply:900 mcm
• Industrial water supply: 500 mcm
• Life of reservoir: 500 years
• Land improvement:7,00,000 hectares
• Land to be reclaimed:1,50,000 to 2,00,000 hectares
• Reduction of distance to travel between Bhavnagar to south Gujarat: 150 km